A CAREER AT CODEWERK
WE'RE LOOKING FOR SMART THINKERS.
WE'RE LOOKING FOR YOU.
A CAREER AT CODEWERK
WE'RE LOOKING FOR SMART THINKERS.
WE'RE LOOKING FOR YOU.
WE ARE CODEWERK

WELCOME TO THE DESIGNERS OF THE FUTURE
Performance. Availability. Scalability. Cybersecurity. You know what's expected from software and systems in rail-based transportation and in the process and production industries in today's world. And you know you can contribute your expertise to help shape their future. Because programming is your passion. The passion we live and breathe at Codewerk. We design, create, and maintain the code. Developing software for totally new concepts in rail transportation and a digitally transformed industry.
When you work with us, you're not just dealing with the next big things in technology. You're also part of a corporate culture where what you do is more important than how you do it. Prefer mobile work? Want to organize your own time? Just coordinate with your team and get started. Realize your opportunities. Make us better. Tell us what drives you and where we can make improvements. And have fun here. We know what good people we've got. It's something we want to embody and let everyone experience, every day.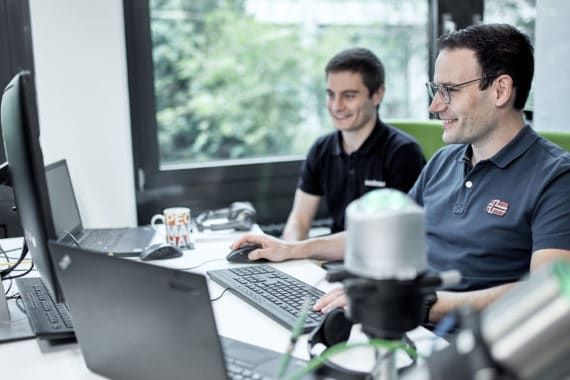 LOOKING FOR PROFESSIONALS WITH PASSION
Take on responsibility. Develop new technologies. Drive innovations forward. Share knowledge. Help shape the future of Codewerk. You're the person we're looking for: a professional with experience and expertise. Working here, you'll assume responsibility for projects and have personal contact with customers – and you can count on short decision pathways.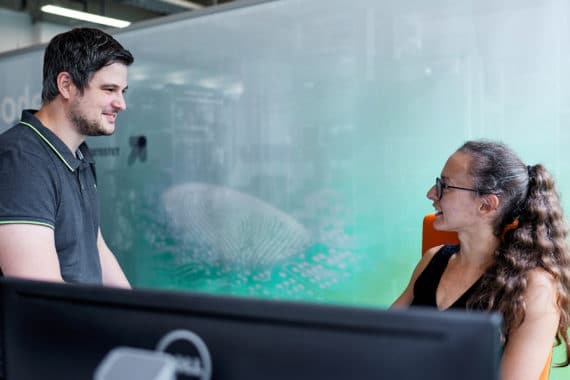 GRADUATES: SHAPE THE BEGINNING OF YOUR CAREER
Be part of the team from Day 1. Contribute your specific expertise. Pursue prospects. Master challenging tasks. Advance professionally and personally. As a graduate, you'll get individual mentoring and opportunities for professional development tailored to suit you and your activities. Are you a team player with personality and technical skills? We're looking forward to your application!
STUDENTS: FROM THEORY TO PRACTICE
Have a practical semester to complete? Or are you looking for a position as a working student? You've come to the right place! At Codewerk, you'll benefit from in-depth insights into practical work, work on fascinating future-oriented systems, and make valuable contacts. In short, you'll lay the foundation for your future career. Want to know more? Apply now.
Codewerk Who?
Not so important: Previous experience. Extremely important: The desire for working in industry! Managing Director Samuel explains what it means to be a software development service provider for industry and rail vehicles.
Model-based What?
Driving technical solutions to make software reusable.  Melanie shows what a system engineer does and why teamwork is so important.
Debugging Why?
Firmware, programming languages and personal responsibility. Timon is an embedded software developer and introduces you to what makes his everyday work so special.
Developing How?
The latest tools for the best code quality. C# developer Jakob shows you how he keeps track of the entire development process.
JOBS AVAILABLE (M/F/D)

OPENINGS AT CODEWERK
Application process

YOUR PATH TO CODEWERK
1. APPLICATION
These are the application documents you'll need to send to karriere@codewerk.de:
Cover letter: Ten sentences will do, and PDF format is fine.
CV: Two to four pages, depending on your professional experience.
References: Send us whatever you've got.
Testimonials: Happy to see them.
Certificates: If they're relevant.
2. CONFIRMATION
We'll confirm that we've received your application in two to three days. Feel free to contact us if you haven't had any feedback after two days.
3. REVIEW
We'll look through your application documents. Things we consider especially important include:
Top grades in subjects relevant to the job (generally, mathematics, IT, science, and technology subjects)
Reasons why you could be the right person for the job
Still waiting to hear back after more than two weeks? Feel free to contact us.
4. INTERVIEW
Two of us will tell you how fantastic Codewerk is. Of course, we'll have a few questions for you, too. Allow about 90 minutes for the interview. We're looking forward to meeting you. There'll also be coffee and cookies.
5. CODECAMP
A day at Codewerk will give you the opportunity to get to know us and solve a programming exercise. You decide the subject area for your exercise. We'll also give you some information to help you prepare – it won't depend on your prior knowledge. That will give us a chance to get to know you. And you can also decide if things feel right for you.
You'll get feedback on your exercise in the afternoon of the test day. We'll be in touch again after one to two work days.
6. CONTRACT OFFER
We'll be working together? Great! We'll send you your contract without delay.
WE'RE LOOKING FORWARD TO RECEIVING ALL YOUR APPLICATION DOCUMENTS BY E-MAIL
THE TEAM WORKS

WE CAN ACHIEVE A LOT TOGETHER
Are you a strong team player who really wants to make things happen in your job? At Codewerk, you can – as part of a friendly team in a fast-growing, successful company. Individually, we're quick on the uptake with strong professional skills and a focus on delivering. We deal with each other in a relaxed atmosphere of fairness, trust, respect, understanding, and honesty. The result is a team spirit in which willingness to help, mutual support, and backing from management are present at all times. We also celebrate our collective successes together – whether it's at exciting team events or over a beer in the evening.
WHY CODEWERK?

AT CODEWERK, WE ARE SHAPING AND LIVING
THE CORPORATE CULTURE
AND WORK STRUCTURE OF THE FUTURE.
ATTRACTIVE REMUNERATION AND BENEFITS
FLEXIBLE WORK HOURS MODEL
WIDE RANGE OF PROFESSIONAL DEVELOPMENT OPPORTUNITIES
MEET & GREET

HOTSPOTS YOU SHOULDN'T OVERLOOK
Where do the whiz kids meet, where's the best place to connect, where can you make the best contacts – and above all, where can you have fun? Whether it's exciting challenges or trade show events – there's no chance of FOMO* at Codewerk.
*Fear of missing out
TRADE SHOWS

FACTS AND DATES
Trade shows are the ideal platform for really leveraging your career – and that's why Codewerk gets involved. Virtually or in-person. You can look forward to the CareerContacts, for example, and the popular "X-Days" at various locations.
CODERACER

JOIN IN OUR VIRTUAL HACKATHON
When the best get together, it goes without saying that you should be there. The principle is clear: The exercise is available at gitlab.com ahead of the X-Days. Download the code, program the Coderacer, and win the parcours at our trade show booth. The fastest algorithm wins. Are you in?
TEAM EVENTS

FUN IS PRE-PROGRAMMED
Whether it's in a private group on a skiing or snowshoeing trip or on outings to the Brombachsee organized by Codewerk: We make a point of celebrating our collective successes together. Of course, it's up to you whether you join in these team events. But we're always pleased to have you there.